At East Portland Care Center, we specialize in skilled nursing care for our residents. Our goal is to successfully transition patients from hospital to home and provide the tools for each phase of recovery.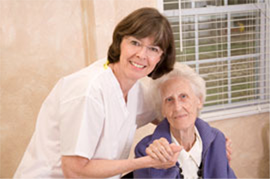 It's a fact that no two people are the same or require the same exact treatment regimen. Our health care professionals communicate with you, your family and your physician to determine your exact daily needs. East Portland Care''s highly skilled clinical team provides the care you need to from day to day with an attention to care and detail.
Those who stay at East Portland Care experience a warm family atmosphere where all who live and work here can interact and be part of the daily routine. We are a smaller facility, and that enables us to focus on meeting individual wants and needs. You will experience that personal touch when you stay with us.